Graduate Response Rates Up To:
74%
Partners
Colleges
Become a partner with GradCast for automated mobile tracking of your graduates' success. Our simple, secure dashboard provides the real-time data you need.
If you are an administrator at a college partnered with GradCast please click on "Admin Login".
Our college partners receive all the benefits of GradCast's user-friendly tracking system. GradCast gives you high quality data, in a secure, FERPA compliant platform. With a simple login, you have access to a real-time graduate and completer data in an easy-to-use dashboard that quantifies their success...and validates yours.
Our high-performing platform tracks, connects, reports and measures. The mobile optimized platform ensures the industry's highest response rate, at an average of 60%.
Contact us today to learn about GradCast's easy-to-use and implement tracking solution. Best of all, your graduates and completers want to participate. With GradCast, you're helping to build their network. We have access to over half a million companies hiring in dozens of career and technical fields. They can send up to 100 resumes to employers that hire the skill set for which they trained. Now that's a graduation gift!
Best of all, your graduates and completers want to participate… Why?
Lifetime access to proprietary employer database
Mobile friendly
Up to 100 free resumes delivered as a graduation gift
GradCast also supplements student success and career services strategies by connecting your graduates with employers and providing another platform to reach out for externships and advisory boards.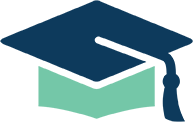 Graduates & Completers
Now that you've done the work, show off your talent. Your college has partnered with GradCast to provide you with employment channels no job board can match! We help you get noticed by employers looking for your expertise. GradCast allows you to build your network of potential employers for the life of your career.
Your college and GradCast have a free graduation gift to help you find employers and boost your networking strategy. You will be able to send up to 100 resumes to employers looking for talent just like you.
It's easy:
Click the link your college and GradCast sent you.
Create a password. (We already created an account for you to claim your graduation gift.)
Upload your resume.
Then, send resumes with the click of a button.
Employers
Free Access To Candidates In Your Industry
GradCast is your connection to today's qualified talent. We connect you to a trained and ready workforce. GradCast is recruiting done right.
NO fees
NO obligation
Receive resumes from local recent graduates trained in your industry.
Click on "Resumes" to receive free resumes sorted by your industry
College Departments
THAT USE GRADCAST
PRESIDENT & VICE PRESIDENTS
Provides data that can increase funding streams
DEANS & DEPT HEADS
Automates after graduation job reporting & builds employer relationships
INSTITUTIONAL RESEARCH
Provides real-time granular student reported employment data.
CAREER SERVICES
Help place students and build hiring relationships with employers.
Client Stories
Hear directly from our partners on how we have helped them achieve their tracking and improvement goals.
Leadership at San Jacinto College District weren't having success in tracking graduates, and had difficulty gathering data on graduate employment status after graduation. We began working with Gradcast in the summer of 2013 and after the first year. They delivered over a 57% response rate - which was the data they needed to increase funding for certain programs.

San Jacinto College

Vernon retained GradCast in 2018 and now has 70% response rates. This allowed them to prove that their graduates were, in fact, getting hired in the industry that they were educated/trained. GradCast's database sorted by Industry is an important part of the 70% response rate.

Vernon College

We have been using Gradcast for several years and have incorporated GradCast introductions to our students in the capstone portion of our classes. This has resulted in consistent 80% to 95% response rates for postgraduate engagement.

Trinity Valley College

GradCast helps schools connect graduating students with employers that hire their specific skillsets. GradCast not only connects students to potential employers in their areas of training, but also enables schools to track their graduate job placement success rate.
Partnership with GradCast provides colleges with the data they need to ensure continued funding streams and eliminate time consuming, tedious, electronic, phone, and mail survey campaigns. We've been helping colleges gather post-graduate employment data and connecting their alumni to our proprietary employer database since 2013.
Serving 40 Career and Technical Industries
Accounting/Bookkeeping
Agricultural
Appliance Repair
Auto Body/Collision
Auto Repair
AutoCAD/Drafting
Boat/Marine Repair
Building Maintenance
Child Development
Computer/Network Support
Construction Management
Cosmetology
Culinary
Dental
Desktop Publishing
Diesel Repair
Electrical
Engineering
Floral Design
Graphic Design
Gunsmiths
Hospitality
HVACR
Legal
Machining/CNC
Manufacturing
Massage Therapy
Medical
Motorcycle Repair
Pharmacy
Physical Fitness and Training
Plumbing
Process Technology
Property Management
Software/Web Development
TrackBack
Travel Agents
Trucking-Logistics
Veterinary
Welding